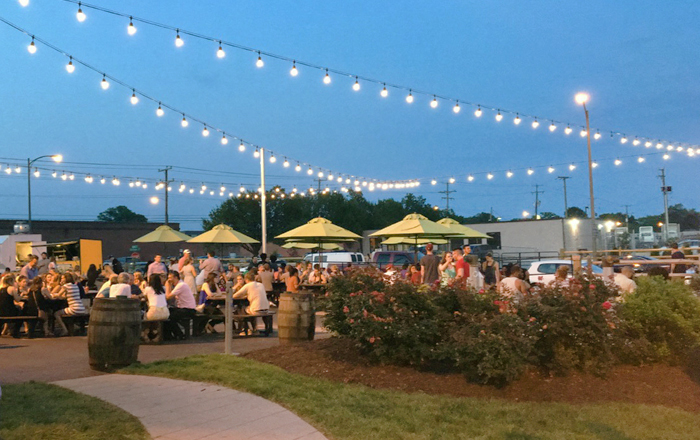 Photo from Food Truck Thursday at Hardywood Brewery here in RVA.
‣I started my new job on Wednesday and have a lot of thoughts and feelings about it. Of course, two days (plus today) isn't a lot of time to really get a feel for the place, so I'll save those musings for when I've had long enough to form a solid opinion. As some of you may know, I'm a graphic designer for a large manufacturing company. In order to understand the product and how everything works, they're throwing me out on the floor for a couple of weeks so I can fully grasp just what they do, what they make, and how they make it. I think it's the best way to learn and I'm really excited that they're the kind of company that teaches in this way. I can't imagine if they'd just thrown me in to start designing when I have no idea what's going on! I bought my first pair of steel-toed shoes and have been outfitted with my very own safety gloves, sleeves, and glasses, so I am très chic on the job.
‣We leave for Holland in just 20 days! I've exchanged a few dollars for euros, booked a hotel, and have been starring everything on my Google Maps that I want to check out while we're there. Feel free to send all of the packing idea posts, Amsterdam checklists, and more…I love that stuff, don't you? (This isn't even my first trip there…I just love researching travel planning!) I also scored two tickets to the Anne Frank House, something I had written off as impossible since they had been sold out for weeks. I'm so ready!
‣Any other curly haired girls out there? I've been fighting my curls for my entire life, but I'm only recently coming to terms with them and trying to find a way for us to get along. I've disavowed my flat iron, picked up a few DevaCurl products, and am trying to make my way through the pages of posts in a Facebook group I was added to for girls with curls. Apparently I've been doing it all wrong, but I have so much to learn. If you have recommendations or suggestions please let me know any and all of them!
Reading
The Last Star by Rick Yancey | This is the third and final book of The 5th Wave series. I had actually forgotten that I'd preordered this, but I'm glad I did. While the movie wasn't all that incredible, the book was still one of my favorites. I can't wait to find out how it all ends.
Watching / On the Internets
Blog Love