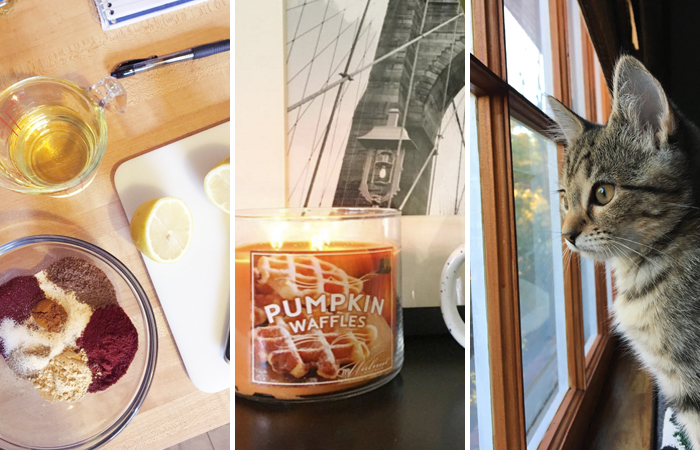 I'm tired, guys. It has been an incredibly rough week for me even without the election stress: I had a big deal medical appointment on Monday, a root canal on Tuesday, and now have a very uncomfortable kidney infection to go along with it all. It has just not been my week and I can't even keep up with all the meds I've been on. Because this world (and myself especially) needs a big dose of positivity today, I give you Five Things to Talk About Today That Aren't Politics:
Okay, it's really six, because 1 & 2 are both about TV shows.
1 | The Crown
Netflix's The Crown is wonderful and you need to give it a try if you haven't seen it yet. I love historical anything (fiction/nonfiction, books, movies, TV shows,) and The Crown has filled the empty place in my heart that Downton Abbey left behind. I would be lying if I said I hadn't cried a few times, as the acting and cinematography are impeccable and do a lot to draw out your emotions. (I could also blame that on my emotional state, but I'm going to say it's just that good.)
A related movie to watch for a little backstory is Madonna's W.E. (one of my favorites!), based on Queen Elizabeth's uncle King Edward III's abdication from the throne in order to marry American divorcee Wallis Simpson, (aka W & E). These two are shown in much of The Crown, especially in episode 3 when he shows up for his brother's funeral. Another relevant movie is The King's Speech, an award winning movie which shows Queen Elizabeth's father Albert "Bertie" (aka King George VI) overcoming a speech impediment as he suddenly has to speak publicly as the new king. You see remnants of the King's stutter as he makes public announcements in episode 1 of The Crown. Watch the two of those movies in that order and you'll appreciate The Crown even more!
1 (pt 2) | How to Get Away With Murder
How to Get Away With Murder is a show I knew I'd probably like if I'd just sit down and watch it at some point. I was definitely right on that because I binged the first two seasons on Netflix in as many weeks, just in time to hop over to Hulu and watch the new episodes of season 3 before they expired, leaving me waiting each week now for Thursday's new episodes. Yes, a lot of the drama gets to be a little much sometimes (I mean how many times can you just keep digging your own hole deeper guys, really?) but so far it hasn't become so far fetched and ridiculous that I'd give it up. What a tangled web they weave!
Oh, and remember when I worked at the coffee shop downtown in the spring and I said some of the Mercy Street actors and actresses were regulars? Uhm…hello "Connor," aka Jack Falahee! I remember some coworkers saying that Mercy Street's "Frank Stringfellow" was also a regular on HTGAwM, but I had no idea I was casually chatting up one of the show's main stars! (He was really cool by the way, and I hope I didn't offend him by only knowing him from MS but not HTGAwM. I didn't fangirl out at the time because I had no idea.)
2 | Summer's Mug Swap
Right now our house smells amazing because I'm constantly burning this Walnut Avenue pumpkin waffles candle that I received in my Mugs & More Swap box a few weeks ago. Summer of Coffee with Summer organized the swap and I was paired with Lexi of A Blissful Haven. We got to know each other a bit through emails, which is honestly the best part of blogging: building community! I loved getting to know Lexi and hear all about her upcoming wedding and life in a lake town in Ohio. Her blog is a lot of fun, so you should hop over and get to know her too!
3 | Design Work
I've been trying to pick up a few extra freelance jobs (anybody need any design work done?) and I'm also trying to busy myself with personal projects. I have a few branding projects going on at the moment for others, but I'm also dabbling in a little planner design, card designs, print designs, and compiling/designing city guides. If anyone wants to give me a little extra push that'd be greatly appreciated. It hasn't been easy, especially with all of the appointments and the way I've been feeling, to get myself up each day and try to force myself to be creative. Creativity is one of those things that you really can't "force" into existence, so it's especially disheartening when my mind blanks out and I feel like I'm not getting anything done. I keep thinking, "tomorrow the creativity bug will bite me and I'll obsessively dive into this in an excited rush to complete it," but that bug just hasn't come. Help.
4 | Kitty Rory
Rory has been with us for two weeks tomorrow and she's both wild and adorable. After a week of sleeping with us peacefully through the night, she is now up and ready to play around 4am these days. I call it "the crazies." She also gets the crazies in the morning before Dan leaves for work and doesn't let me get anything done until around noon. Yesterday, in the midst of all of the toxic and exhausting posts on Facebook, I dropped in a photo of Rory to cheer everyone up. I think it worked a bit; she gets more likes than pics of me. Who doesn't love cat photos? Here are a bunch.
5 | Cooking
I am obsessed with cooking lately. I love cooking from scratch and using ingredients that I've never worked with before. Besides being completely incapable of removing the smell of garlic from my fingers hours after chopping cloves into tiny bits, the entire experience is therapeutic for me.
If you follow me on Snapchat (embusyliving) you've probably seen me working on a few Indian recipes. These are the most challenging and fun because the spices are so foreign to me as someone who grew up in the US south where throwing in a slice of bacon while cooking is acceptable seasoning. (Not that there's anything wrong with that, but I'm all about garam masala, fenugreek seed, and turmeric right now!) I've successfully made three different curries and I'm working to simplify the steps to make them easier and quicker. Here's my go-to mango curry recipe and here's my favorite chicken tikka masala recipe.
I've also been making lots of crock pot beef stew, broccoli and cheddar soup, verde chicken enchiladas, my own spaghetti sauce, and so much more. Let me know if you'd be interested in any of my own recipes. One day I might compile them into my own recipe book.