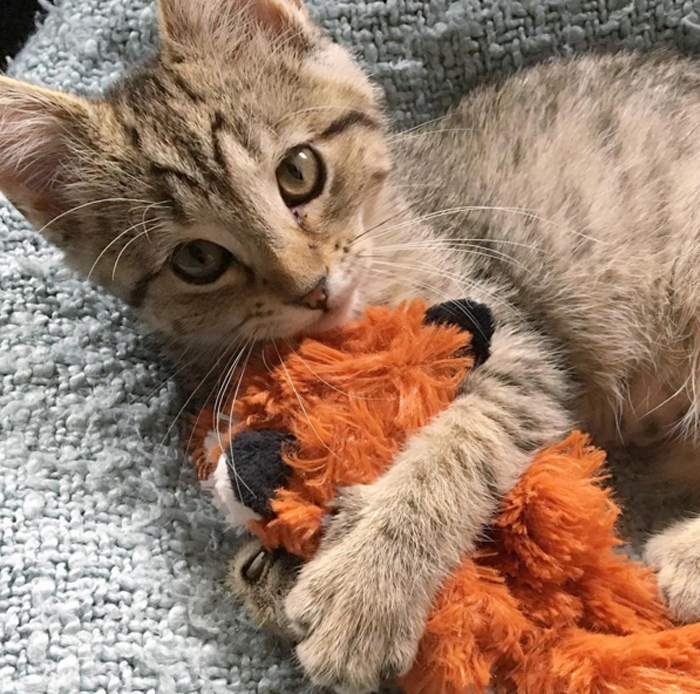 You may have seen on my Instagram that Dan and I adopted a kitten a little over a week ago. I fell in love with one specific kitten on a Richmond foster kitten Insta account weeks ago and we claimed her as soon as we were absolutely sure we were ready to bring a little furry friend into our lives. The Richmond SPCA did her spay surgery and called us the next evening: "Hope you're not doing anything tonight; your kitten is ready to be picked up!" We rushed over and filled out paperwork, bringing her home at 7pm on a Friday night. I named her Rory and jokingly call her "Roary Rory" (you should hear her tiny "mews"!)
She's 12 weeks old today and we're already totally in love. Of course, we spent that first Saturday wondering if we'd made a huge mistake; she kept us up all night crying and wanting to play and I think the lack of sleep really did a number on us. After over a week she's cuddling up behind my knees at night and [mostly] staying in bed the entire time. She wakes me up by standing on my side, arm, or chest and purring really loudly. It's adorable.
I'm kind of obsessed. (I even made her her own Instagram account so I can post pictures every day without turning my personal account into nothing but cat pics. I'm that person.) But besides my obsession, this little ball of fur came into my life at a point where I really need the distraction. While yes, it's hard to get much freelance work done when she's down the hallway crying for no reason or trying to climb up the curtains behind the couch, I have had far too many serious things on my mind lately that I really needed reprieve from. When I'm having a bad afternoon, having Rory curl up against my leg on the couch is so sweet I can't help but smile. She's too cute to be unhappy around.