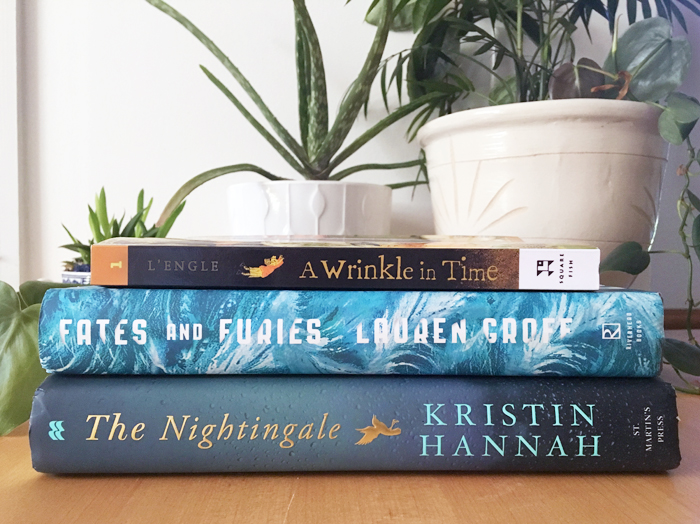 My reading dry spell is over! I read three books in July, though one was a child's book and perhaps shouldn't count toward my reading challenge this year. (I'll count it for now and try to replace it by the year's end.) This brings my total number of books read to 17 of 25. You can follow me on Goodreads here.
* Post contains Amazon affiliate links *
– – – – –
Fates and Furies by Lauren Groff
This is a book that I picked up because it seemed like everyone was reading it last year, and I needed to see what all the hype was about. I went into it knowing very little about the story, but came out feeling like I've lived a completely separate life alongside these characters. Here's the blurb from Goodreads:
Every story has two sides. Every relationship has two perspectives. And sometimes, it turns out, the key to a great marriage is not its truths but its secrets. At the core of this rich, expansive, layered novel, Lauren Groff presents the story of one such marriage over the course of twenty-four years.

At age twenty-two, Lotto and Mathilde are tall, glamorous, madly in love, and destined for greatness. A decade later, their marriage is still the envy of their friends, but with an electric thrill we understand that things are even more complicated and remarkable than they have seemed.
Before starting this book, I'd read a few short, spoiler-free reviews that talked about this book having very little plot, and I guess I can agree, but don't think that's a bad thing with this story. The author managed to span the entire lives of two people without being overburdensome, effortlessly flowing from year to year without skipping a beat but also without causing any confusion.
The first two thirds of the story are told focused on Lotto (short for Lancelot) and we follow his life's story through the ups and downs from his birth to his death. Afterward, the remainder of the book focuses on Mathilde in the same way, and we learn that things weren't always what they seemed as told from Lotto's perspective. While my ideas were changed about the characters as this went on, I began to appreciate them and their story in different ways. It was beautifully written, beautifully woven, and I don't know if I've ever read anything quite like it before. I highly recommend this one.
– – – – –
The Nightingale by Kristen Hannah
Why did it take me so long to read this book? My friend Georgia recommended it to me over a year ago and it has been on my list since. I am so glad I chose this as my next book to dive into, because I couldn't get enough. I'm on a roll with these great book choices! Here's the blurb from Goodreads:
Despite their differences, sisters Vianne and Isabelle have always been close. Younger, bolder Isabelle lives in Paris while Vianne is content with life in the French countryside with her husband Antoine and their daughter. But when the Second World War strikes, Antoine is sent off to fight and Vianne finds herself isolated so Isabelle is sent by their father to help her.

As the war progresses, the sisters' relationship and strength are tested. With life changing in unbelievably horrific ways, Vianne and Isabelle will find themselves facing frightening situations and responding in ways they never thought possible as bravery and resistance take different forms in each of their actions.
The blurb does not do this book justice because it does not fully express the seriousness of the experiences of Vianne and Isabelle. Reading it again now, it sort of makes it sound like they're both just waiting for the war to pass in their country home, but this is not the case. (I promise, no spoilers.) The war completely engulfs the lives of every character in this story, from Nazi occupation of the house to dangerous assistance with the resistance. I was completely wrapped up in this book from start to finish.
Besides being well written, I also loved the pace of this book. Most of the story takes place over the course of six years, from 1939 to 1945, with a few chapters throughout that flash to the future (1995.) Nothing ever seemed rushed and the pace of events felt realistic and natural. I felt like the characters themselves were believable and complex, especially while dealing with extreme life changes and the dangers they faced every day. It made me thankful for the life I live now, and fearful of what the world is capable of becoming. I highly recommend this book if you enjoy WWII stories and/or historical fiction. (But maybe don't read it right after another WWII story; I've seen lots of reviews where people have been less enthusiastic when doing that.)
– – – – –
A Wrinkle in Time by Madeleine L'Engle
When the new trailer for A Wrinkle in Time hit the web a couple of weeks ago, I excitedly shared it with Daniel and asked him if he'd ever read the book. He had. I actually don't think I'd ever read it before, and I feel like I would have remembered it had I read it in elementary school as he did. Dan started telling me some of his favorite parts of the story and how he remembered it fondly as one of his favorite books from that time in his life. With that kind of praise from him, I ordered it from Amazon on the spot so I could read it before the movie comes out next year.
Here's the blurb from Goodreads:
It was a dark and stormy night; Meg Murry, her small brother Charles Wallace, and her mother had come down to the kitchen for a midnight snack when they were upset by the arrival of a most disturbing stranger.

"Wild nights are my glory," the unearthly stranger told them. "I just got caught in a downdraft and blown off course. Let me be on my way. Speaking of way, by the way, there is such a thing as a tesseract".

Meg's father had been experimenting with this fifth dimension of time travel when he mysteriously disappeared. Now the time has come for Meg, her friend Calvin, and Charles Wallace to rescue him. But can they outwit the forces of evil they will encounter on their heart-stopping journey through space?
Perhaps I went about reading this book all wrong. First, it's a children's' book, so it wasn't written for me, which negates all of my negative feelings towards the way it was written. The plot moved incredibly fast considering how much happened, which left everything feeling like it was simply being skimmed over instead of explored and explained deeply. There was very little in-depth anything here, from character development to scientific explanation. For example, one of the most integral scenes happens within the confines of less than 30 brief sentences. (So fast, to me.) Again, if I were ten, this is probably exactly the way it should be written…I just wish I could put myself in the mindset of a ten-year-old to appreciate it that way. I had to remind myself over and over that this is a kid's book.
Besides my inability to appreciate it as an adult the way a child or young teen might, the story itself was extremely creative. Considering this was written in the 1960's, I'd say it was very ahead of its time as well. The scientific concepts of the story center around wormhole travel to other galaxies and relativity, which I failed to grasp far into my 20's.
Regardless of how I felt reading this, I'm definitely going to see the movie when it comes out…I mean, just look at the cast! (The movie has no other choice than to be more in-depth and already looks incredibly different than the book.) If you missed this one in elementary school maybe skip reading it now yourself, but perhaps a child in your life would love to read it and have you take them with you to see it on the big screen.
– – – – –
Have you ever read any of these books? What did you think?
And what did you read in July? I'm always eager for new book recommendations!