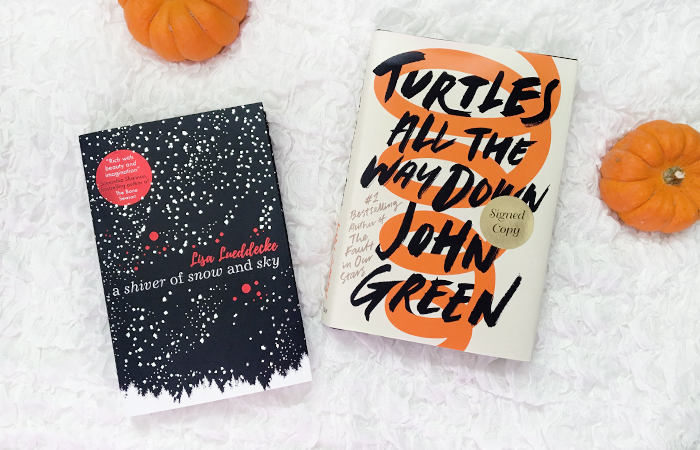 You guys, I seriously just had the most fulfilling month of reading! I have now completed 24 out of my goal of 25 books this year, so I think it's safe to say I'll definitely meet my goal by the end of December.
* Post contains Amazon affiliate links *
– – – – –
A Shiver of Snow and Sky by Lisa Lueddecke
First things first, I have to disclose that I am friends with the author. Lisa and I attended the same high school together for a short while. She was also one of my first real photography clients and has been a design client as well. This is Lisa's first book, published by Scholastic UK, as she moved to England to marry her British (now-)husband.
Okay, on to the blurb, via Goodreads:
On the frozen island of Skane, the sky speaks. Beautiful lights appear on clear nights, and their colours have meaning: Green means all is well, and the Goddess is happy. Blue means a snow storm is on the way. And then there's red. Red is rare. A warning.

Seventeen years ago, the sky turned red just as Ósa was born, unleashing a plague that claimed the lives of hundreds of villagers, including her own mother. This time, when the night sky once again bleeds crimson, she must discover how to stop the onslaught before so many lives are lost again.
As excited as I am for Lisa, I promise I'm giving this book the same scrutiny I would as any of the other books I've read this year. That being said, I fell deep into this story quickly and could not put it down. Being that it was published as a children's book, I was a little worried that the storyline would be a bit too young for me to really appreciate, similarly to how I had a hard time truly appreciating A Wrinkle in Time earlier this year, but this was not the case. The world-building and history of Skane were well thought out, the pace was just right, and the fantasy aspect brought the kind of unease and anticipation that made you afraid of what Ósa might stumble upon when you turned the page. Be prepared for monsters, giants, dragons, and a deeply portrayed coldness only rivaled by life north of the wall in A Game of Thrones.
Also, as a book for young readers (older kids and YA? and 31 year-olds, clearly,) I was excited to read a fantasy adventure story that was both well-written and not overtaken by dialogue. Each sentence felt carefully crafted, yet simple, as it moved the story forward. With absolutely no similarities to the storyline at all, reading it reminded me of reading The Island of the Blue Dolphins, a lifelong favorite of mine. It feels like it has been a long time since I've read something that was written this way. 10/10 would recommend.
It is my understanding that Lisa is currently working on the sequel to this book, and I'm so excited to read it when she finishes it! You can follow her on Instagram here. A Shiver of Snow and Sky is available through Amazon and the Book Depository. She did not ask me for this review and I was not paid or gifted to share my thoughts.
– – – – –
Turtles All the Way Down by John Green
I absolutely adore John Green and have read all of his books. I had this one on pre-order and couldn't wait to get my hands on it! I read it in less than three days.
The blurb, from Goodreads:
Sixteen-year-old Aza never intended to pursue the mystery of fugitive billionaire Russell Pickett, but there's a hundred-thousand-dollar reward at stake and her Best and Most Fearless Friend, Daisy, is eager to investigate. So together, they navigate the short distance and broad divides that separate them from Russell Pickett's son, Davis.

Aza is trying. She is trying to be a good daughter, a good friend, a good student, and maybe even a good detective, while also living within the ever-tightening spiral of her own thoughts.
This book was different than I expected, and I'm glad it was. The idea of it centering on finding the missing billionaire as told in the blurb sounded less intimate than Green's prior books, but the reality is that the story itself is centered deeply inside Aza's mind. It took me the entire book to put a clinical name to Aza's mental health struggles, which go beyond the often simplified and expected experiences of someone dealing with OCD by someone who hasn't been there themselves. Aza's experience was not the stereotypical knocking on wood a certain amount of times, but more rooted in compulsive checking, hypochondria, and health anxiety.
Aza's OCD overtakes her to the point where she can barely function at times, making nearly every aspect of her life extremely difficult to navigate…especially relationships. Relationships play a huge role in Aza's story: her relationship with her mother, her relationship with her best friend, Daisy, and her budding relationship with Davis Pickett. It was difficult to read at times, but written in a way that made you feel like you truly understood Aza's thoughts and struggles.
I definitely recommend this one, as I do all of John Green's books. I still think Looking for Alaska is my favorite of his, but this one seems to be the most personal to Green. (< potential spoilers in that link.)
– – – – –
What have you been reading lately? I'm still slowly working my way through Game of Thrones and sometimes picking up the very history-book like The Romanovs: 1613-1918, but I need something light and exciting right now. Any recommendations?