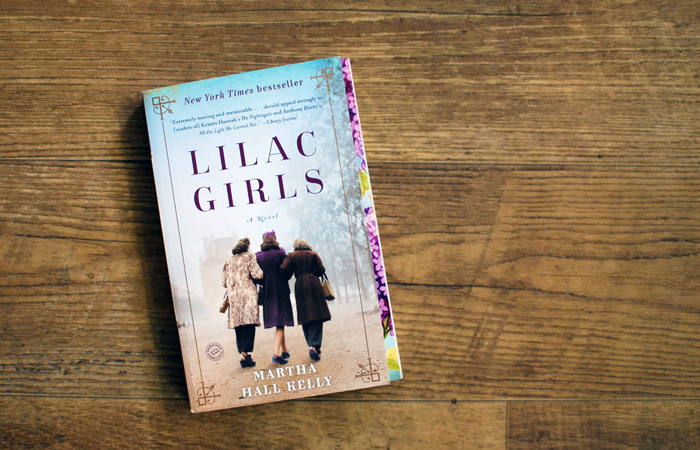 I got in one last book for this year, bringing my total number of books read to 29! I should have made my Goodreads Reading Challenge 30 books and pushed myself a little farther, but 29 is pretty good. I'll be sharing a post in January wrapping up my favorite reads of the year, so keep an eye out for that in the next couple of weeks. There were a lot of great ones! I'm not even sure I can choose an absolute favorite. Enjoy this last minute addition to my reviews for the year.
* Post contains Amazon affiliate links *
– – – – –
Lilac Girls by Martha Hall Kelly
It took me a while to really get into this book because the entire premise gave me anxiety from the start. Do you ever feel that way when starting a new book? This story is told from the perspective of three women across the world during the reign of Hitler, and after reading a few WWII books this year I wasn't sure I had it in me to read any more about it. I'm glad I finally got far enough into it to get past that feeling, because I really enjoyed this story overall.
One perspective in this story is of Caroline Ferriday, an American woman who worked at the French Consulate in New York City during WWII. Another is from a fictional character, Kasia Kuzmerick, a Catholic girl from Poland, based collectively on real women who lived through her experiences. The third perspective is of German doctor Herta Oberheuser, hired by the Nazis to oversee medical procedures and experiments in the all-women Ravensbrück Concentration Camp in Germany. Her chapters toward the beginning of this book were the most difficult to get through and made me wonder many times why I was choosing to read this book before bedtime.
All three of these women's lives intersect through the course of the book, but in service of not having spoilers here I'll let you find out how on your own. I highly recommend giving this one a go, because the writing was wonderful and I loved the historical accuracy of the story. Kelly did a lot of research before writing this story and it shows.
I especially loved the author's note at the end of the book. It has lead me to research more online on my own to learn more about Caroline Ferriday, a woman I knew nothing about before reading this. My searching lead me to a website for an upcoming documentary called "Saving the Rabbits of Ravensbruck," which I'm very interested in seeing whenever possible. The director worked with Martha Hall Kelly so they could share research with each other. Definitely check that site out and watch the video on the front page.
– – – – –
What a wonderful year of reading! What was the best book you read this year? I'm already looking around to see what I want to read next year.