There are only 14 more days until Christmas! I can't believe it, but I've already completed all of my shopping this year. Every year I bring up buying Christmas gifts as early as August, but usually I'm scrambling to find gifts at the last minute due to my avoidance of shopping in general. Thankfully, friends' online shops, Amazon Prime, and great deals online came to the rescue this year and I had everything wrapped and ready to go by the end of last week.
For those of you who still have a few things left to buy, I thought I'd send a few recommendations your way. I've seen a lot of gift guides this season and I hope that mine will throw a few new ideas into the mix.
Disclosure: Some recommendations below contain affiliate links. Learn more here.
Think of it as a way to give me a little Christmas gift, at no cost to you.
I'd never share anything I wouldn't purchase myself!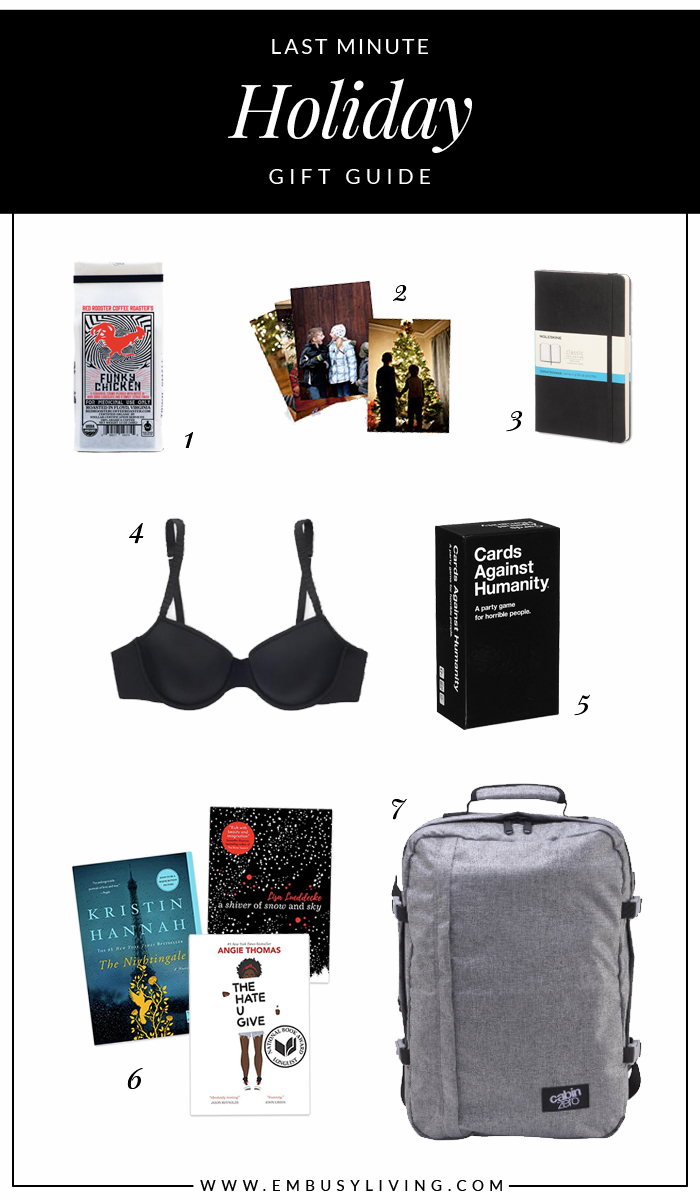 1 | Red Rooster Coffee | This is hands down my favorite coffee ever. Red Rooster is a small coffee roaster based in Floyd, Virginia. I fell in love when we lived in Roanoke and even had them ship bags to me when we lived in California. Luckily, I can purchase it locally in Richmond and always buy several bags when we're in Roanoke. Their coffee is organic, fair trade, and has won multiple awards. They're also supportive of their local community; they're opening a new coffee shop in Roanoke soon that will employ female ex-offenders and help revitalize the West End neighborhood. My favorite blends are the 4&20 French Roast, the Funky Chicken, and the Ethiopia Kayon Mountain.
2 | Shutterfly Credit | After the holidays (and many holiday parties) are all over and done with, this gift helps your recipient print out a few photos or create a photo book of the occasion, or of the year. I've been creating a "yearbook" photo book throughout the year and can't wait to order it in January! I've also gone back and made several others from years prior, because let's be honest, nobody is going to sit around and click through their hard drives in 15 years to look back on these memories. Print them out, hold them in your hand, and flip through whenever you need to stroll down memory lane.
> Click here for a free 8×8 photobook with your first Shutterfly order.
3 | Moleskine Notebook | I am obsessed with my Moleskine. I purchase a new large, soft-cover, dotted notebook every year and use it as my Bullet Journal. I carry it everywhere with me, jotting down notes and appointments, and using it to keep nearly everything in my life organized, from upcoming travel to our household budget. If you know someone who likes to stay organized or simply loves to write, you can't go wrong with one of these classic notebooks.
4 | ThirdLove Bra | I have been wanting one of these for myself for a while now, and I've heard nothing but good things. I know it might seem a bit odd to buy someone a bra as a gift, but if you have a sister or girlfriend you feel close enough with, I'm sure she would appreciate it. If you don't know their exact fit, that's fine; ThirdLove will do free exchanges until you find the perfect size, and they donate the worn bras to their Bras for All program for women in need. Still feel awkward about gifting a bra? I'm sure gift cards would be welcome, too!
> Click here for $15 off your first ThirdLove order.
5 | Cards Against Humanity | I have never played a game of Cards Against Humanity that wasn't a blast, whether I'm awkwardly saying horrific things in front of my in-laws or fighting to play the most ridiculous card against everyone else in the Good Times Crew. Somehow, Dan and I don't even own our own set of the game, but we have started collecting a few cards with our inclusion in this year's holiday promotion, Cards Against Humanity Saves America.
6 | Books | For the readers in your life, of course. See if they have a Goodreads account, then check to see what they have already read or what they have listed on their TBR ("to be read" or "to-read" list). If they don't have an account, gift them a book you love or one you think they'll enjoy. Shown above are "The Nightingale" by Kristin Hannah, "The Hate U Give" by Angie Thomas, and "A Shiver of Snow and Sky" by Lisa Lueddecke. (You can read my reviews for all of them here.) If you're uneasy about choosing the book, let them choose their own: nobody would turn down an Amazon gift card!
7 | CabinZero Bag | CZ's 36L bag is the perfect size backpack for short trips, weekends, or daily exploring. I know I talk about these bags all the time (and this isn't the last you'll hear of them from me), but with good reason. We're on the road a lot and I use my 44L bag all the time. These bags make perfect gifts for the frequent traveler or college student in your life. You can read my review here.
8| Concert Tickets | (not pictured) Unless you know of a specific coveted show coming up, how about a gift certificate to your recipient's favorite venue? It wouldn't be hard to find out where the music lover in your life goes to most of their shows (Instagram posts, Facebook check-ins, etc,) so treat them to a night out with one of their favorite artists. I would never argue with gift certificates to The National!
9| Creative Workshops | (not pictured) This one might be a bit more complicated for you to figure out, depending on where you live, but I wanted to present the idea. Here in Richmond, I have taken multiple workshops at local art studio Studio Two Three, a non-profit studio space for artists of all types who offer classes on everything from darkroom photography to screenprinting to calligraphy. It might take a bit of work to find a studio near you that offers something similar, but I imagine any creative person in your life would be thrilled over a gift certificate for something like this.
*Photos for this guide used with no ill intention, but definitely not my copyright. Photos snipped from corresponding websites and Amazon.