I have been overwhelmed by the excited response I've received on my announcement of Baby S on Instagram and my last post! Thank you all so much for your kind words and best wishes for a safe and healthy pregnancy, delivery, and baby. It's feeling more and more real every day and we're more excited that words can explain!
Nothing made all of this feel more real than the 7 hour "Low Intervention Birth" class Dan and I attended at our hospital last Saturday. I went in feeling extremely nervous about everything I'll be facing for the first time in September and left feeling relieved and prepared. We were able to tour the labor and delivery ward and postpartum floor and imagine ourselves there and ask any questions we had. I'm very relieved to know that our hospital of choice already does standard some of the things I thought I was going to have to advocate for. Our class instructors were two local doulas and they walked us through the stages of labor in detail, demonstrated various available ways to labor in the delivery room (including hydrotherapy), and most importantly—made me feel like I can do this. I feel like I now know what to expect (as much as one can at this point).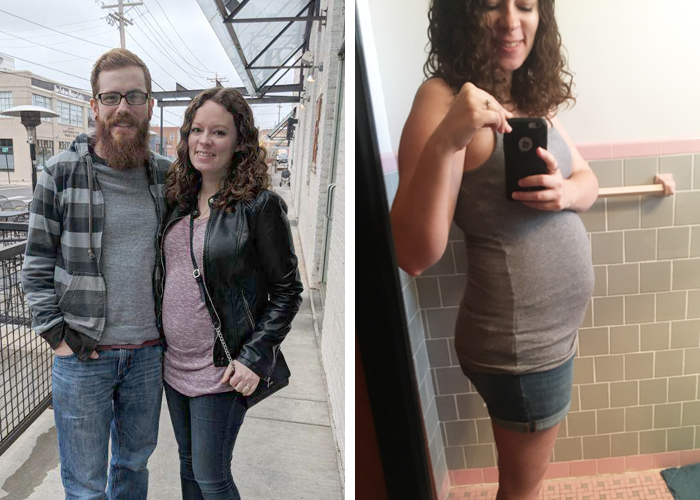 I'm sixteen weeks—four months—pregnant now and it's starting to show. While I wore a belly band over my jeans as early as nine weeks due to a little growth, I'm definitely appreciative of my maternity jeans, shorts, and leggings at this point. (I was so excited my maternity shorts from Old Navy arrived in time for the 89˚ weather last week, but of course now it's back down in the 40s here. Boo!) I'm also starting to gain (back) a little weight; while I weigh now what I did in January, I lost several pounds in the first trimester due to the fact that I was so sick I could barely eat anything.
Keeping this quiet for so long has been hard. Being that we did IVF, there was no surprising our families and everything has been a waiting game. (Our moms were texting nonstop asking if we thought it had worked almost immediately after our transfer procedure, ha!) Even after we got positive blood work, we were still too anxious to share for quite a while. It's hard to have something consume your life in such a way and not talk about it, so the circle of people we told grew over time. Thank goodness this is all out in the open now! Having secrets—especially really fun and exciting ones—can really start to weigh on you after a while.
Speaking of secrets…everyone wants to know the gender of Baby S! I know that lots of people don't get to find out until around 16-20 weeks, but one of the silver linings of this pregnancy via science is that we had our embryos DNA tested and found out the genders before the end of last year. While we didn't choose which gender they transferred in, we totally could have, which blows my mind. We simply told them to choose the one that seemed most likely to stick, and this one is what we got. (We didn't want to know and be that much more attached if I miscarried.) Before we "graduated" from our specialist to a regular OBGYN, around week eight, we finally decided we felt secure enough with this pregnancy to find out.
Baby S is a boy!