I won't even pretend like I'm ready for Christmas this year. While I was on top of things last year and had completed my Christmas shopping earlier than ever, I've been a little preoccupied this year. Online shopping and gift cards to the rescue!
Thankfully, it's not too late to order a few more gifts online, especially with Amazon Prime, other quick-ship offers, or by upgrading to expedited shipping. Here are a few of my recommendations this year, because I loved compiling a list last year! Just get on it though…Christmas is only eight days away! (ahhh!)
Disclosure: Some recommendations below contain affiliate links. Learn more here.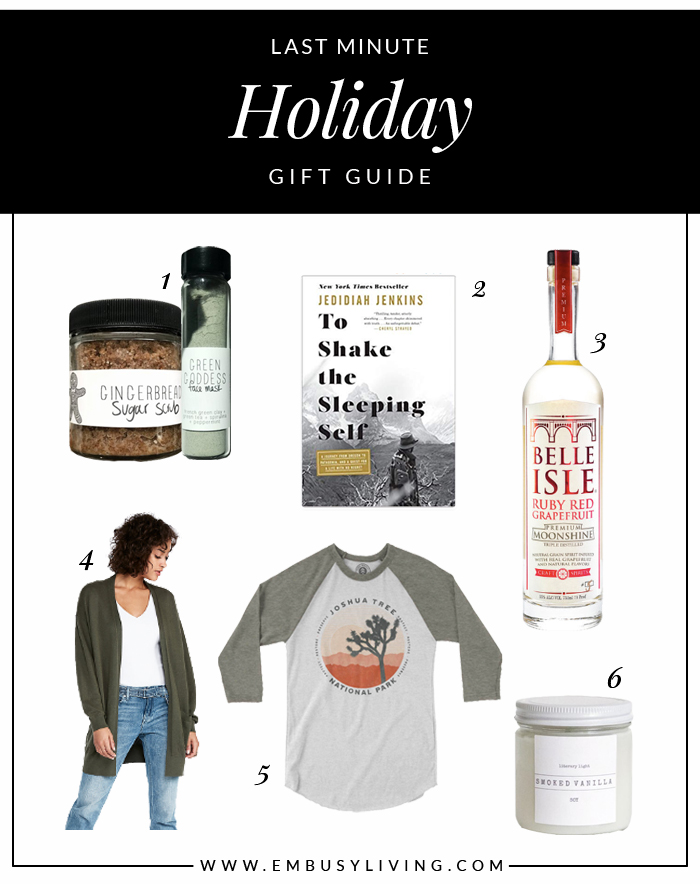 1 | Body Products by Sam Wish | I've been buying things from Sam since I started reading her blog over five years ago. She uses all natural ingredients and dōTerra essential oils to create one-of-a-kind roller blends, body oils, scrubs, and more. Her products can be found on her website and on Etsy (and in stores across Texas). I love the Get Unsick roller and her range of bath soaks, and recently ordered myself the new Green Goddess face mask.
2 | 'The Shake the Sleeping Self' by Jedidiah Jenkins | I've been eying this book since it hit shelves this past October. I have been following Jedidiah online for quite a while and he's such an inspiring and upbeat person, so I imagine his book will be the same. Some of you may be familiar with Jed and some of his inner circle, a group of inspiring creatives and influencers primarily from Nashville and including inspirational speaker Ruthie Lindsey and This Wild Idea photographer Theron Humphrey.  This memoir follows Jed as he bicycles from Oregon to Patagonia, over 14,000 miles.
3 | Belle Isle Moonshine | Why not get something pretty for your friend's bar cart? Along with the rise of local breweries has also come an upcropping of local distilleries. Here in Richmond we have local "moonshine" company Belle Isle, named after one of our most popular outdoor destinations and making an appearance on nearly every local bar's shelf. I'm not even a big drinker myself, but I've had Belle Isle's flavored moonshines in cocktails at events and they are top notch. Their Ruby Red Grapefruit is an RVA favorite. You can buy it online or find it in stores in select states.
4 | Express Cardigan | I may have bought this cardigan for myself around my birthday and I think any girl in your life would love to curl up in it on her couch around the holidays. (That's what I'll be doing in mine.) Everything from Express has been 40-60% off over the past couple of weeks, so treat yo self (or a friend.)
5 | Parks Project Merch | I love this J-Tree t-shirt from Parks Project, a group of volunteers who aim to raise funds for our national parks through merch that speaks to our generation. This shirt certainly reminds me of great times visiting Joshua Tree, but they sell designs made for each of our other national parks as well. You can find tees, towels, prints, books, and more and can filter by which specific park you want to celebrate. I would go on and buy about six different t-shirts if I didn't need to be shopping for others right now.
6 | Literary Light Candle | My friend Lisa makes these soy candles and I can attest to how great the scents are. I haven't tried the Smoked Vanilla one yet, but it's on my list after my Santa's Workshop one is all used up. She also sells wax melts. (PS…why not buy one of Lisa's candles and one of her books?)
– – – – –
This isn't a very extensive list, but if it was I would probably be more prepared myself, right? Maybe something on this small list will help you fill in one of those last-minute blanks on your list, too.
– – – – –
 Need more ideas? I still stand by everything on my gift guide from last year.
And if you have friends with a new baby or who are expecting soon, I've shared ideas for them recently, too.
*Photos for this guide used with no ill intention, but definitely not my copyright. Photos snipped from corresponding websites and Amazon.