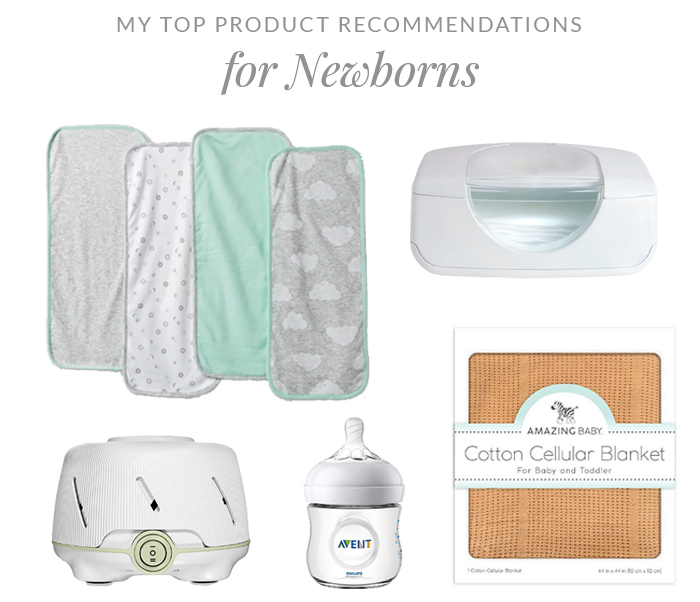 While I've only been a mom for about eight weeks (!!!) I feel like I have a fairly solid grasp on what products we have found most useful and what I would recommend to others for life with a new baby. I have several friends who are pregnant right now, or friends who are considering kids in the near future, and I now feel like I know exactly what kinds of things I'd choose first to purchase off their registries (or recommend they add to them!) If you have a friend you need to buy a shower gift for, or if you yourself are expecting, I've compiled the list below to help take the guesswork out of the early days with baby.
I'm sure our needs will change as he gets older, but most of these are things we use every single day right now.
* Post contains Amazon affiliate links *
Feeding
Philips Avent Natural Bottles | (Amazon, Target) | Though we registered for a couple of different brands of bottles, this brand was what both our nurses in the hospital and our lactation consultant recommended we use because the nipples most closely resemble the breast. We had a few of them that I'd received as samples in registry boxes and quickly bought several more. The entire line is compatible so you're able to change out the different nipple flow levels as your baby grows and then those nipples will also work on larger bottles. We have six of the 4oz bottles (which has been a good amount for us) and will be moving up to the 9oz bottles before we know it.
Medela Quick Clean Steam Bags | (Amazon, Target) | These bags are magic for steam sanitizing bottles and breast pump parts, which I feel like I'm doing endlessly. While I still hand wash every part after use, throwing them in this bag with a little water and microwaving for 90 seconds guarantees that any leftover bacteria is killed. Each bag is good for 20 uses.
Burp Cloths | (Target) | I never realized just how many burp clothes we'd go through in a day. I haven't exactly counted, but I've bought three of these Cloud Island 4-packs and wash them all just about every other day. You can never go wrong with having 10-15 of them, just so you're not washing them daily. Pro tip: We keep one on his changing pad at all times because it's inevitable he'll spit up a little when we lay him down to change him. It's easier to put a new cloth down than to change his changing pad cover. (Same for his bassinet.)
Other must-haves: Munchkin Bottle Brushes (Amazon, Target), OXO Bottle Drying Rack (Amazon)
Diapering
Munchkin Wipe Warmer | (Target) | I rolled my eyes when I saw that wipe warmers were a thing, but once you wake up a baby with a cold wipe and they start crying you reconsider how useful a wipe warmer might be. My mom gifted this to us when Des was about two weeks old and it was a game changer; he's so much happier during diaper changes.
Plush Changing Pad Covers | (Target) | Once again with keeping baby comfy and happy during diaper changes, we have found that the plush covers are best for keeping baby warm on top of those plastic-lined changing pads. (I suppose cotton may be most comfy during the summer.) I also recommend having at least two covers; we have three and luckily haven't been in a situation where more than one was dirty at a time.
Thirty-One Double Duty Caddy | (Website) | A family friend who sells Thirty-One gifted credit to her shop to me at one of my showers and I ended up getting one of these caddies with it (among other things.) At first I was unsure if I would use it very much, but it's sitting on my dresser beside the changing pad and wipe warmer and is the most useful little thing. We fill one side with new diapers, the other with a bottle of hand sanitizer and extra wipes, then stick a tube of butt paste in one of the little netted holders on the side for easy access. Technically we're using it almost more than any other product. Plus, you can choose from different prints to match your decor and add personalization, if you're into that. (Jamie doesn't even know I'm linking to this product and her webstore so this definitely isn't sponsored.)
Other must-haves: Boudreaux's Butt Paste (Amazon, Target)
Health
Oogiebear Ear & Nose Cleaner | (Amazon, Target) | Some things about being a parent can be pretty gross, like when your baby has a booger and you can tell he's uncomfortably stuffy. While we have the NoseFrida for more wet mucus situations, I've found it doesn't really work on the drier stuff. I tried using q-tips for a while, but those just push things further out of reach. This thing is a life saver.
Safety 1st Soothing Scrub Brush | (Target) | Des started developing cradle cap is his eyebrows around the week four mark and it's now all over the crown of his head at week eight. Not that we've totally tackled the issue, but using this every few days is helping.
Other must-haves: NoseFrida (Amazon, Target), Aveeno Baby Eczema Therapy Nighttime Balm (Target), Aquaphor Baby Healing Ointment (Amazon), Burt's Bees Baby Oil (Amazon)
Home
Marpac Dohm White Noise Machine | (Amazon, Target) | I never knew how wonderful a white noise machine could be, but this helps drown out other sounds during naptime and bedtime alike. I've even used it for my own chances at napping when Daniel or my mom is watching Des and doing other things around the house.
Halo Bassinest | (Amazon, Target) | This was one of the most generous shower gifts we received and it has been just as wonderful as expected. I love that Des is sleeping close by me at night and that the swivel base makes this work in our small bedroom. Besides a mattress protector, we have two sheets for this and that seems to be enough.
Crane Cool Mist Humidifier | (Amazon, Target) | The minute it turned cold in Richmond the humidity level in our house dropped below 30% and Desi's cheeks became rough, red, and chapped. We fired up the humidifier in our bedroom close by his bassinet and it has made a great difference, both for him and for us. (Thanks to my friend Nicole for assuring us he didn't have some crazy illness like fifths!)
Comfort
Philips Avent Soothie Pacifier | (Amazon, Target) | I wasn't sure about giving Des a pacifier at all but the hospital nurses actually encouraged it when we were having a really tough time getting him to calm down enough to nurse. The nursery gave us a Soothie paci while we were there and I imagine it's because the nipple matches those of the Avent bottles listed above. I'm glad that Des isn't "addicted" to his and doesn't panic once he lets it fall out of his mouth, but if he's going to develop a habit to one at least it's designed with the breast in mind. These are also the pacis used on WubbaNubs. (I also know pacifiers are one of those heavily debated parenting things. Just…don't.)
Amazing Baby Cotton Cellular Blanket | (Amazon) | I'm a sucker for blankets…give me all the blankets! Despite Des having several made from varying materials, he didn't have anything like this. We actually received a muslin swaddle made by Amazing Baby in our Amazon registry gift box and I loved it so much I looked their brand up, and that's when I came across these. Now that it's colder the muslin swaddles don't seem warm enough for naptime or car rides, but this blanket does the trick.
Gerber Wiggle Proof Stay On Socks | (Amazon, Target) | We were gifted literally dozens of pairs of baby socks (it seems every shower used them for decor of some kind) but these were the smallest when we came home from the hospital. We were thrilled that they fit his tiny feet so well and that they truly did stay on no matter how much he kicked and wiggled.
– – – – –
Other posts you might find useful:
6 Random Things I've Bought for Baby
– – – – –
Are there any other products that you swear by for the newborn period? Anything I should look into getting soon? Please share your advice and recommendations below!